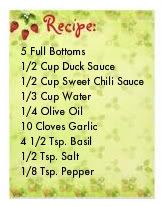 Mix all the ingredients together, Crush the garlic cloves, pour over the chicken, but leave over 1/4 of the mixture for later use.
Marinate overnight.
Preheat over to 200° (400°)
Place covered in the oven for 1.5 hours. Uncover and bake for and additional 1/2 hour, or until golden in color, basting continuously with the remaining mixture.