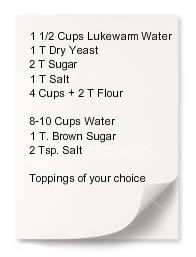 Mix yeast in warm water with sugar.
Add flour and salt mix, until dough stiffens, you may need to add 2 more T. of water.
Put it in a greased bowl, and turn, so the dough is fully greased.
Cover, and let rise in a warm place for 45 min-hour, it wont look like its rising much.
Punch down and cut 8 even pieces.
Shape small balls, and poke a hole through the middle with your finger and twirl it so it enlarges.
Bring the 8-10 cups of water to a boil in a large pot, and add the brown sugar and salt.
Preheat oven to 425°F ( 220° C)
Drop bagels in batches of 3 or 4, don't overcrowd, and cook on each side for 1 1/2 minutes. Remove and place on towel to absorb excess moisture and place on greased cookie sheet. Sprinkle with toppings of your choice, and bake for 20-25 minutes.