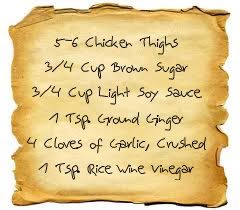 Mix all the ingredients together and pour onto the chicken thighs. Marinate for an hour.
Preheat Oven to 180° (350°F.)
Bake, covered, for 1.5 hours.
Flip over chicken pieces and bake for 10 minutes, uncovered.
Repeat after 10 minutes and bake, skin side up, for an additional 10 minutes, or until golden brown.