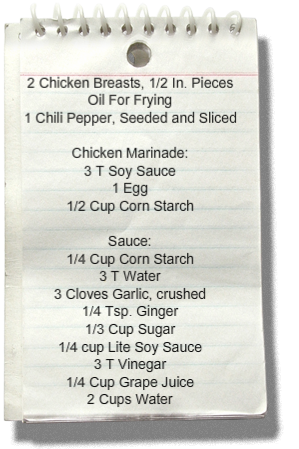 Mix the marinade together very well, in a medium sized bowl. Slice chicken breast into 1/2 inch pieces and dump into the mixed marinade, and mix evenly. Heat oil in a large skillet, on a medium flame and when hot, drop in the pieces one by one and fry until each side is golden brown.
While that's frying, mix together the sauce ingredients and heat it up in a medium sized sauce pan on a medium flame. If it becomes too thick, keep adding some water until its smooth enough (a half of a cup should suffice.)
Put the fried chicken aside to drain, and throw the thinly sliced chili peppers into the hot oil, (optional-sliced scallion) and fry for 1/2 a minute. Add the peppers (and scallions) to the sauce pan with about a 1/4 of the oil from the skillet, and continuously stir until the sauce is smooth. When the sauce is smooth, and no clumps and not too thick, add the chicken. Mix just until the chicken is coated, not too long, or the chicken will be soggy.
Serve immediately.