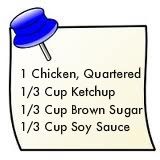 Preheat the oven to 180°C (350°F.) Mix sauce together and spread evenly over the chicken. Bake covered for 1.5 hours. Uncover and baste with the pan juices. Return it to the oven, uncovered, for an additional 20 minutes.
Another option: Bake uncovered at 180°C (350°F) for 2 hours.
Double the sauce when necessary.